Okay, 500 miles is a huge exaggeration but we were walking an average of 8 miles per day at Intermot last week on behalf of our client Visorcat, and as you can imagine we had very sore feet at the end of each day. But as they say: "no gain without pain", so it just had to be done.
Intermot is an international motorcycle, scooter and e-bike fair which is held every two years in Cologne; in fact Intermot celebrated its 50th anniversary this year which confirms that it is a well-established event in the German trade fair calendar. The Intermot team have just e-mailed me to advise that over 200,000 visitors from 105 countries saw the newest innovations and trends from 960 suppliers from 37 countries. So it really is the event at which the international trade places its orders and consumers get their information.
Day one of the fair was reserved for trade visitors only. This was a new arrangement for 2014 but it allowed buyers and sellers to get down to serious business and get some deals done before the consumers descended on the Messe, which they did in their thousands on the following days. With typical German efficiency the Messe is well served with its own train station but of course many motorcycle enthusiasts arrived by bike, announcing their arrival in the bike park with some very noisy engine revving – clearly an Intermot tradition!
Intermot is big as evidenced by our daily mileage. There were six large halls featuring touring motorcycles the size of sofas to trendy little city scooters which would not have looked out of place being ridden by Audrey Hepburn in the film "Roman Holiday". Innovation is definitely a key element of Intermot but this year it was also about retro and in some cases the downright wacky, as evidenced by this cute little number: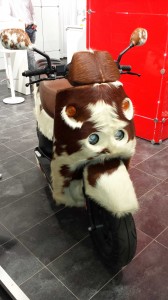 Intermot is definitely dominated by the big names, including BMW, Kawasaki and Ducati, whose marketing budget for Intermot can only be described as eye watering. However, there was also strong representation from the German Mitteltstand; those companies that manufacture helmets, leathers, gloves, boots and other accessories. The main European motorbike magazines were in attendance along with companies that service the German motorbike touring market, so there really was something for everyone at Intermot.
And what was our experience? Given the sheer scale of Intermot, is it a good forum for a small and fairly new company like Visorcat?
Well, we definitely generated interest in the product. Businesses do like to have something new to offer their clients and Visorcat was clearly perceived as innovative and worthy of further investigation. The next couple of weeks will be spent following up on leads and hopefully we will be able to take some of our trade fair conversations to the next level.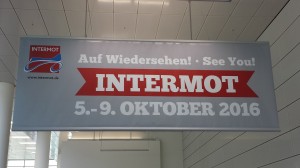 Would we return in 2016?
We would love to and it would be great if sales to German speaking markets were sufficient to justify a small stand, with plenty of seats of course.